peruvian earthquake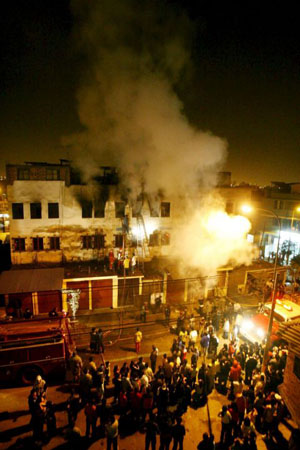 The earthquake in Peru was brought into focus today when I saw this photo of a fire caused by the tremors in the barrio of Rimac. Rimac was my home when I lived in Lima and although Lima escaped the worst of the quake, Ica and Pisco suffering much more, the destruction still hit hard. My friends live in Rimac, another friend was due to fly to Lima yesterday. I'm emailing them and holding all those affected in my thoughts and prayers.
Limeños live with the threat of earthquakes; the shifting Nazca Plate is part of their daily reality. Early one morning while living in Rimac, I lay stiff with fear as my rooftop room swayed around me during a minor quake. Over breakfast the rest of the household dismissed the tremors. 'We get worse than that,' they told me. Much worse, as yesterday's pictures showed. I was encouraged to read that new houses in Lima are build to withstand most quakes, but worry that as usual it is the poor who will suffer most, their rudimentary dwellings offering little resistance to the earth's movement.
The Peru Support Group
is likely to have updates over the next few days as well as ways you can support those affected.
UPDATE FRIDAY
Oxfam
and
Christian Aid
are working with local partner organizations in the affected region. More information and ways to donate via the links above.
Friends from Lima emailed this morning:
In Lima, fortunately, things are ok...The real problems have been in the south. Ica is devastated, Pisco, Nazca and Paracas are 70% destroyed. The whole country is mobilized and helping in whatever ways are possible. The lack of water, electricity and food, plus the poverty of those affected is worsening the situation. It is a terrible situation but it has reminded us of the importance of prevention, and also demonstrated the solidarity and strength of our country and its friends. We have seen in the past how Peruvians can overcome our sorrows and reach out to those in need. This time, I'm sure, will be no exception.